Bio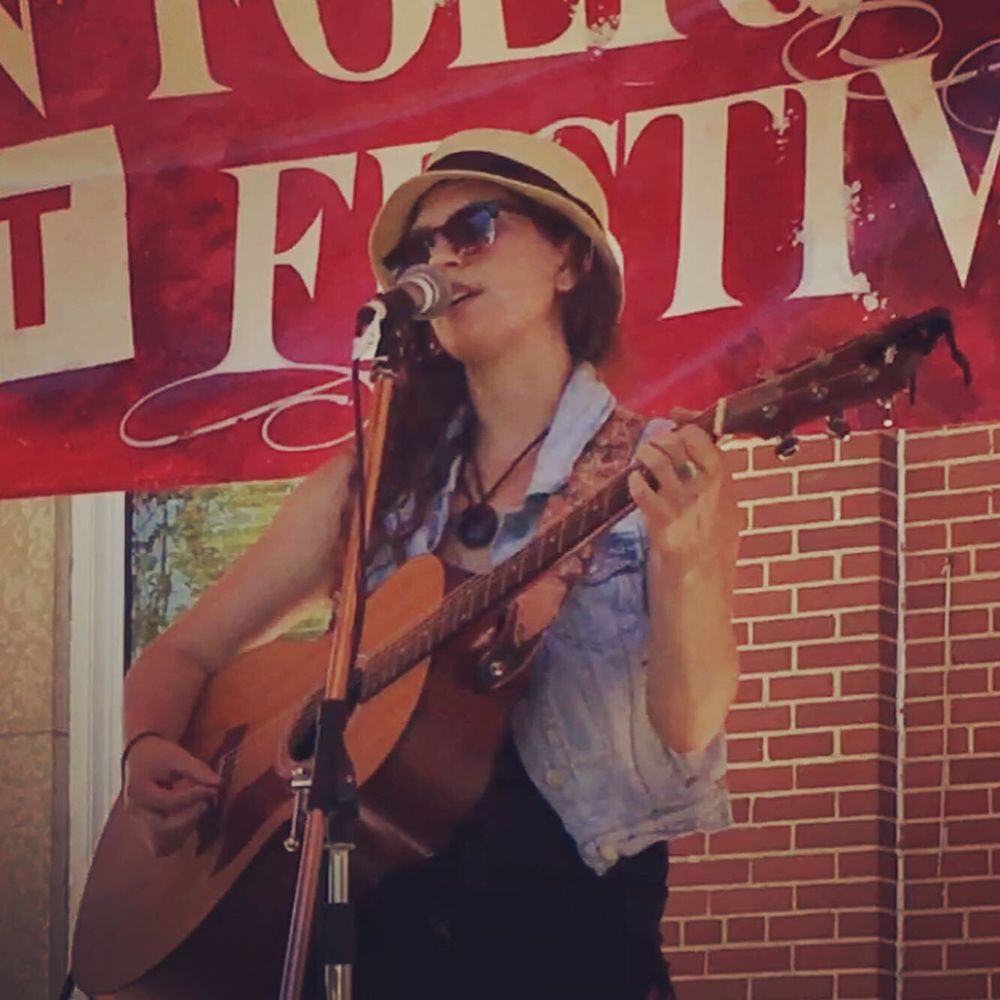 MIMI VOUK IS BACK
Artist returns from underground songwriting laboratory with an epic project entitled "Back in time"
Mimi Vouk (rhymes with folk) is a Canadian self-taught singer-songwriter from various places; Winnipeg, BC, Oikos Co-op, Deep Creek, Northern Sun Farm, USA, Mexico… A traveler, who never stays in one spot for long, she infuses her songs with rich life experience from the art of the people around her, the beauty and hard-learned lessons from past relationships and political activism on issues of capitalism and climate change, with protest songs like "Is it Just Me?" and "Inconsolable World." She has a vulnerability and a depth and isn't afraid to sing about past hardships and traumas she's endured, yet she'll infect you with laughter in the same second with her dark-folk-pop state of mind.

When her Grandmother's piano was gifted to her home at age 8, she began banging away on those keys in all her spare time and showed a natural ear for music. Her Dad, who also played by ear, would teach her basic chord structures and songs on the weekends. Mimi's Mom was taken aback when she began playing renditions of songs off the radio within weeks and recalled thinking, "Oh my god, there's music coming out of that thing!" Within a year, Mimi had written her first song, entitled "What's the World Coming To?" frightening neighbors at the local talent show, with its mature and wise subject matter, who joked that she would need therapy one day. (They weren't wrong.)

Mimi met her guitarist and future step-dad John Deamel, when she and her family moved into the apartment right under his. After the boxes were unpacked, (well probably before), Vouk started banging on those keys again, and again, every day for hours on end. Little did she know, he was strumming along and coming up with guitar parts from his balcony. One fateful day, John initiated a confrontation with Mimi's mom at the community pool that naturally, Tina could only interpret as a noise complaint but she soon realized that John was way too laid back for that and it was more like "Uhh hey, can I jam with your daughter and will you marry me?"

John Deamel is no amateur to the scene. Deamel has played lead guitar in various bands in Winnipeg including Release the Hounds, with Loverboy's Ken "Spider" Sinnaeve, Stratt, Jason, The First & One Night Stand, playing for crowds of 5000 - 25000 and selling out clubs across Canada. John's amazing guitar talent has landed him in rooms jammin' with Kurt Winter from The Guess Who, John Hanna of Streetheart and other household names.

At age 15, Mimi landed a deal with an Indie Record Label in the United States, when a co-worker passed on her demo to a friend in the music business. She released her debut album in 2006, which included credits from 4-time GRAMMY and 5-time Emmy Award winning producer and engineer Eric Schilling (Ziggy Marley, Shakira, Madonna) and GRAMMY award winning guitarist Dan Warner (Alicia Keys, P!nk, Christina Aguilera). Vouk won "Best Emerging Recording Artist" in 2007 at the FREC Awards in Miami, Florida, being best known for her large following, outrageous stage presence, songwriting talent and quirky band members.

She dropped out of high school to pursue the opportunity, travelled the world and stayed in the most prestigious places, but quickly learned that a record deal was not all it was cracked up to be. After fighting to keep her guitarist, her integrity as an artist and her autonomy as a young, vulnerable, woman, she left and came back to Canada where she could heal and build a solid foundation on her own terms. Upon her arrival she got connected with the Winnipeg art and music scene and bought her very first guitar. Learning guitar altered the course of her songwriting style and ability. "It's so different from piano," Vouk says. "It brings different melodies and rhythms out of me than piano does and a lot of songs I've written wouldn't exist without it. I could argue that every instrument has a spirit like that, because now, the same thing is happening with ukulele." 

Now, with over 100 original songs under her belt, she is embarking on a music project like no other; recording and releasing an anthology of her life's work in backwards chronological order, starting with her first real debut album, just in time for the 2020's.

WORLD: I GIVE YOU MIMI VOUK!